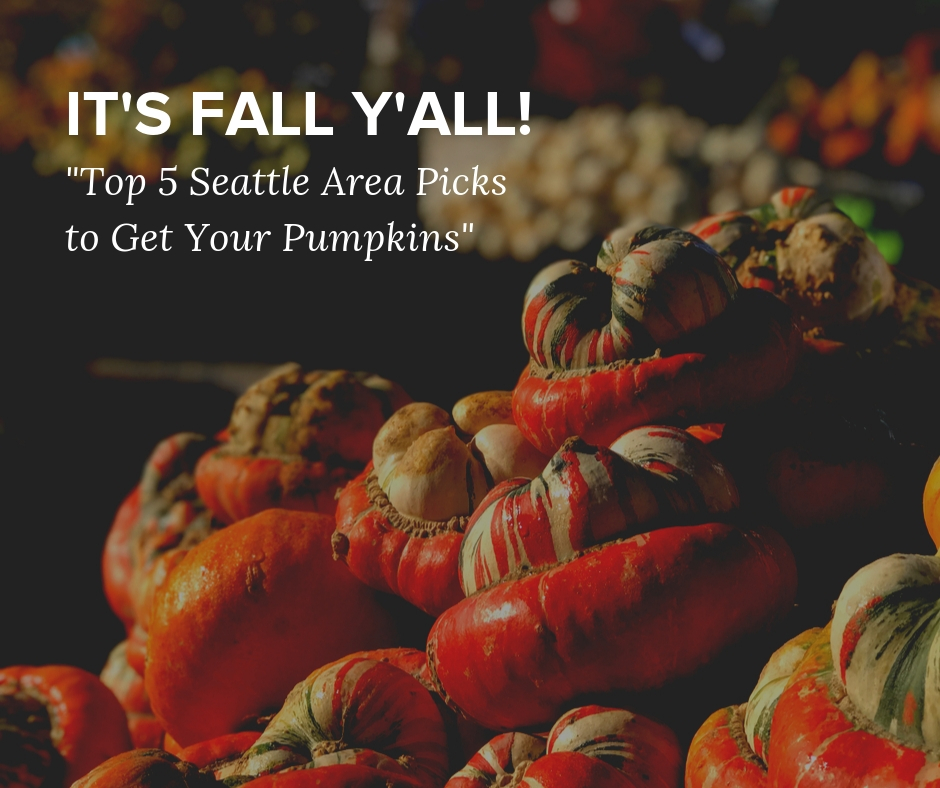 It's Fall y'all, therefore it's time to plan your great pumpkin adventure.  So grab your PSL, check out our Pinterest Board for pumpkin carving ideas, and let's get to it.  Here are our Top 5 Picks to Get Your Pumpkins: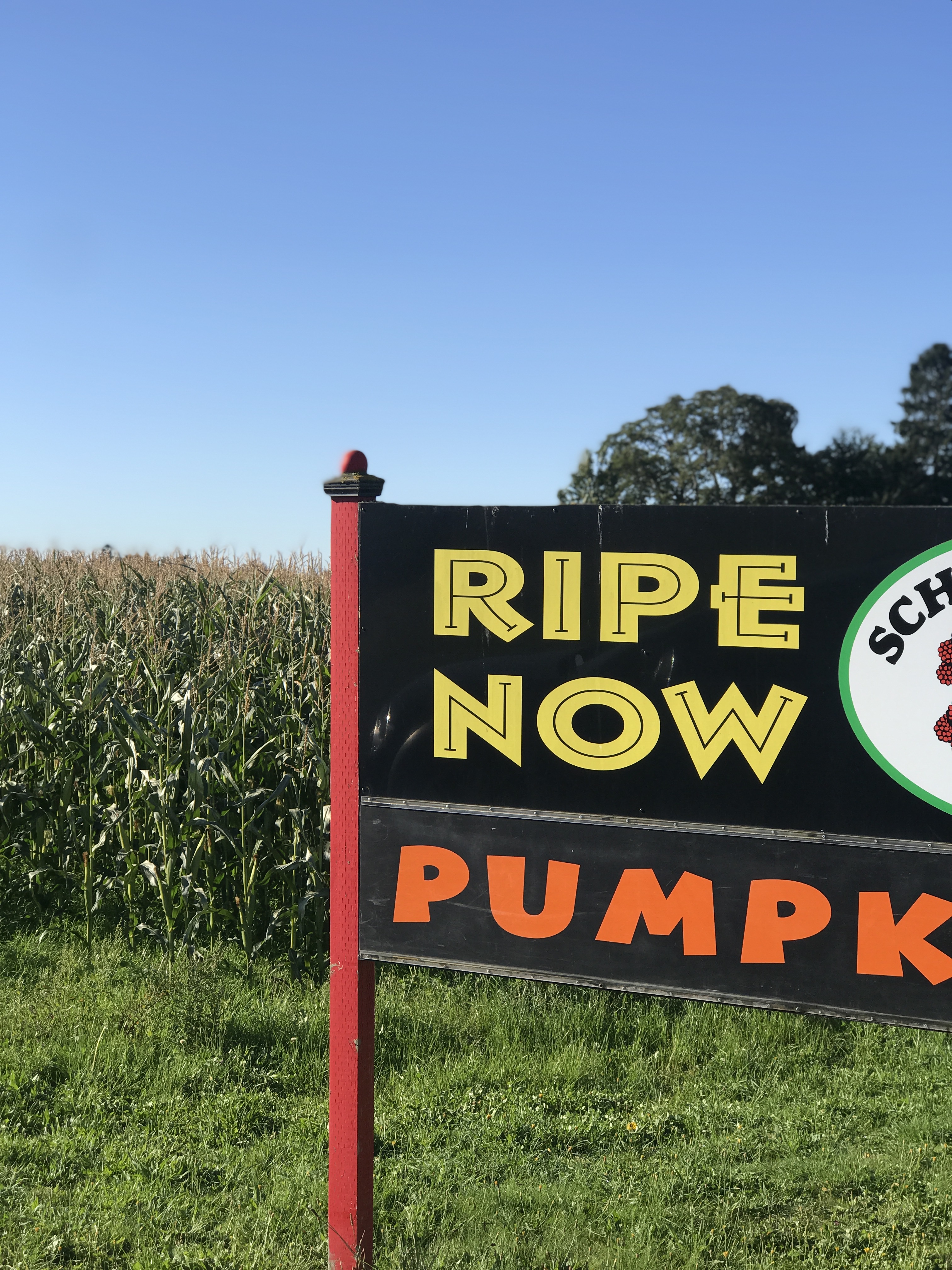 1) FOR THE SLACKER PARENTS:

We totally get it – busy lives, kids, soccer and more. Who wouldn't want to spend the weekend in traffic only to arrive at the farm in a muddy bog while your toddler is screaming because the stem on their pumpkin broke off and the baby needs a diaper change and everyone is STARVING!

We got you!  Head over to the our very own "in-city" Hunter Farms to let the kids frolic in the manageable sized pumpkin parking lot to their heart's content.  The perfect opportunity to quickly grab your pumpkins and head to your next soccer game in Poulsbo.  Enjoy!

PS: while you're there, consider purchasing a pumpkin to put in the donation box for children to decorate that are receiving services from Ryther Center.

Hunter Tree Farm Pumpkin Patch

7744 35th Ave NE

Seattle, WA  98115

Hours: Open weekends only through 10/27

Admission: Free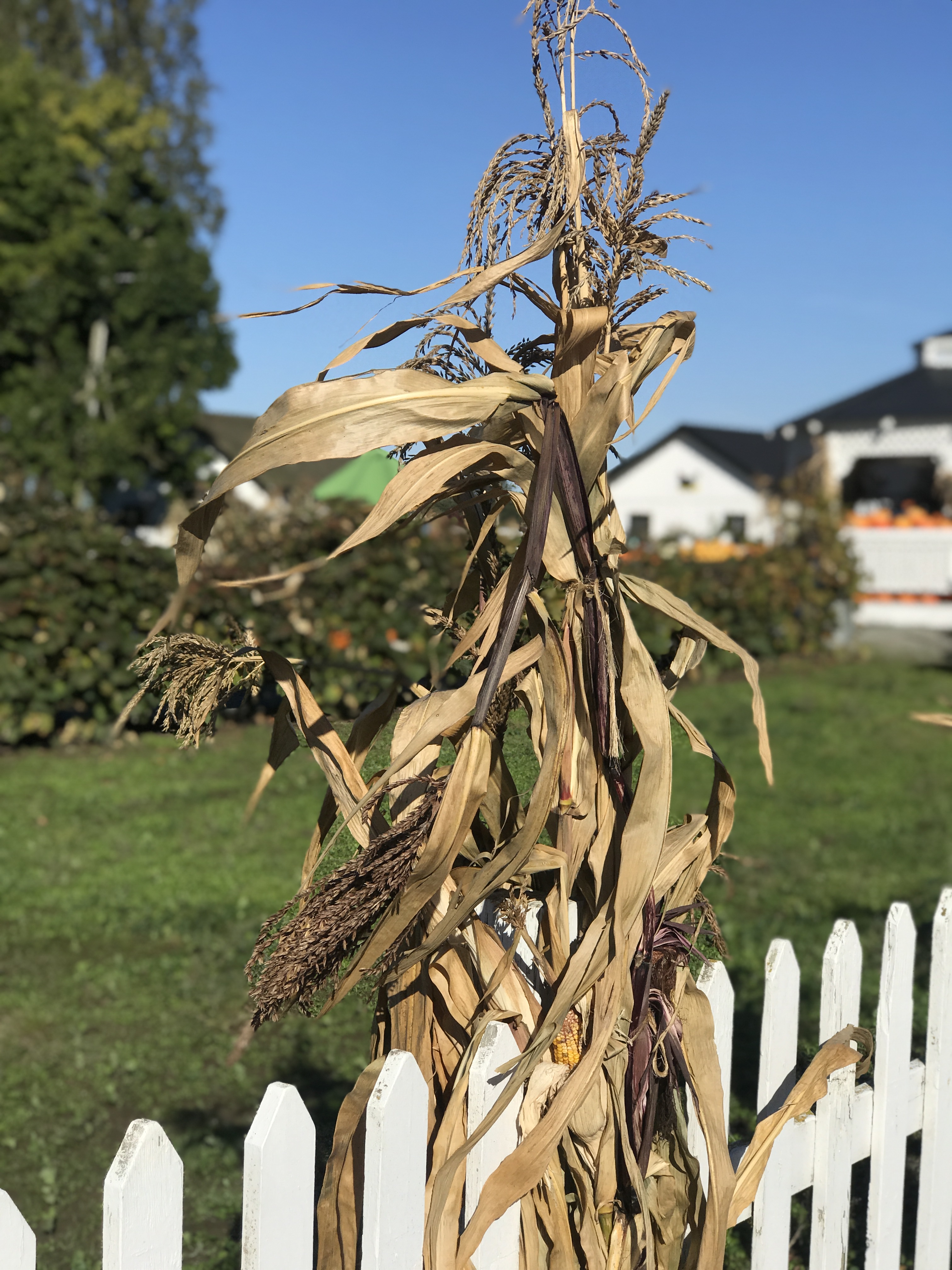 TODDLER HAVEN:

Fox Hollow Farm has everything you need to get the toddler wiggles out.  Animal sanctuary and petting zoo, bouncy castles, hay maze, toddler tractor races, scenic hay rides, hot cider and of course pumpkins!  While you're there, don't miss the corn bin, a tactile experience that even adults enjoy.

12123 Issaquah Hobart Rd SE

Issaquah Wa 98027

Hours: Wednesday through Sunday, opens at 10:00 AM

Admission: $10 (Advance Purchase)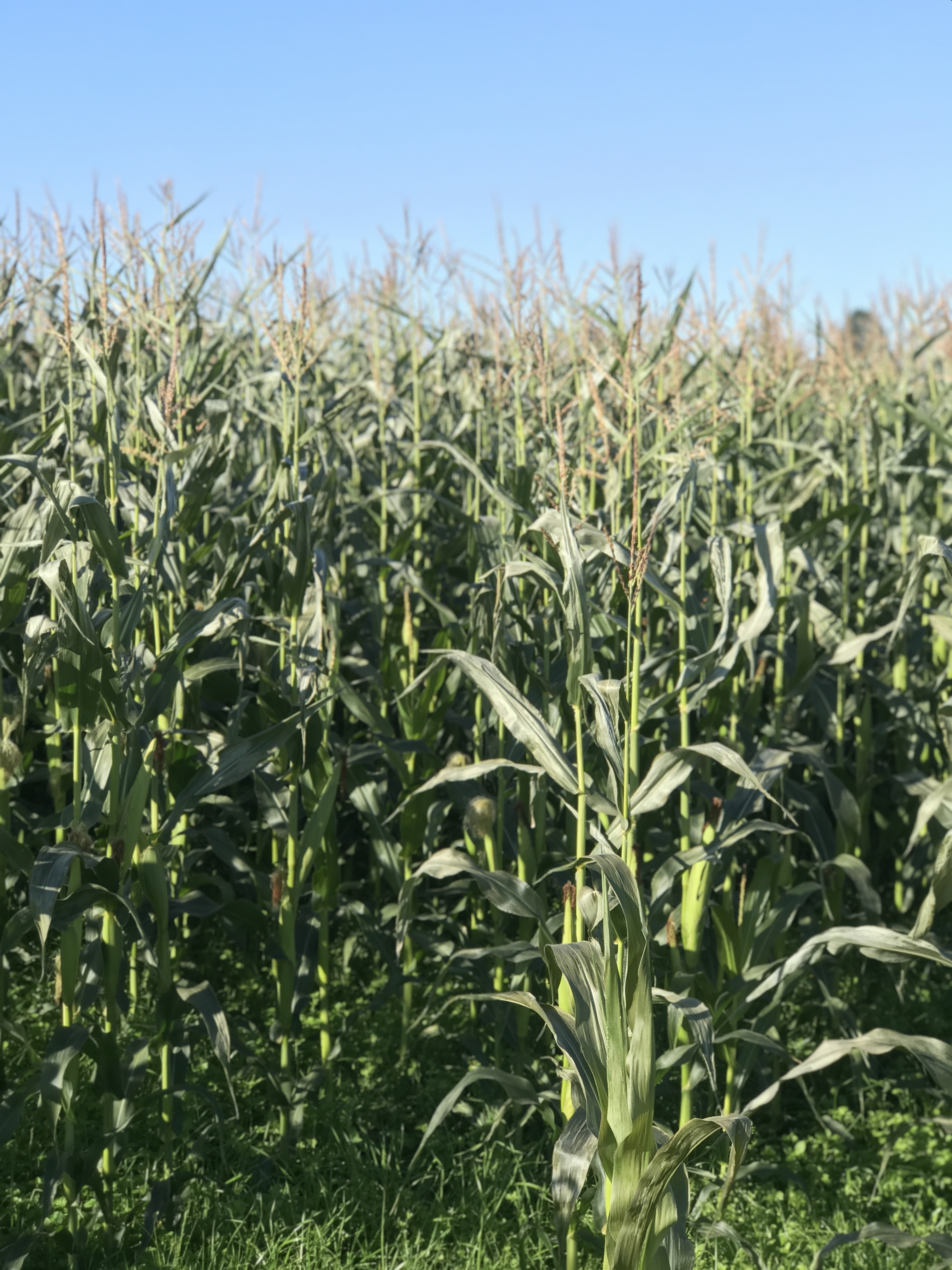 BARGAIN DEALS:

You're on a mission – round, orange and cheap.  We've got you covered!  Our research team conducted an intensive investigation to find the least expensive jack-o-lantern in Seattle.  Here's what we uncovered:

Trader Joe's – $2.99

Walmart – $3.28

Grocery Outlet– $4.99

Safeway – ($0.39 per lb) about $5.50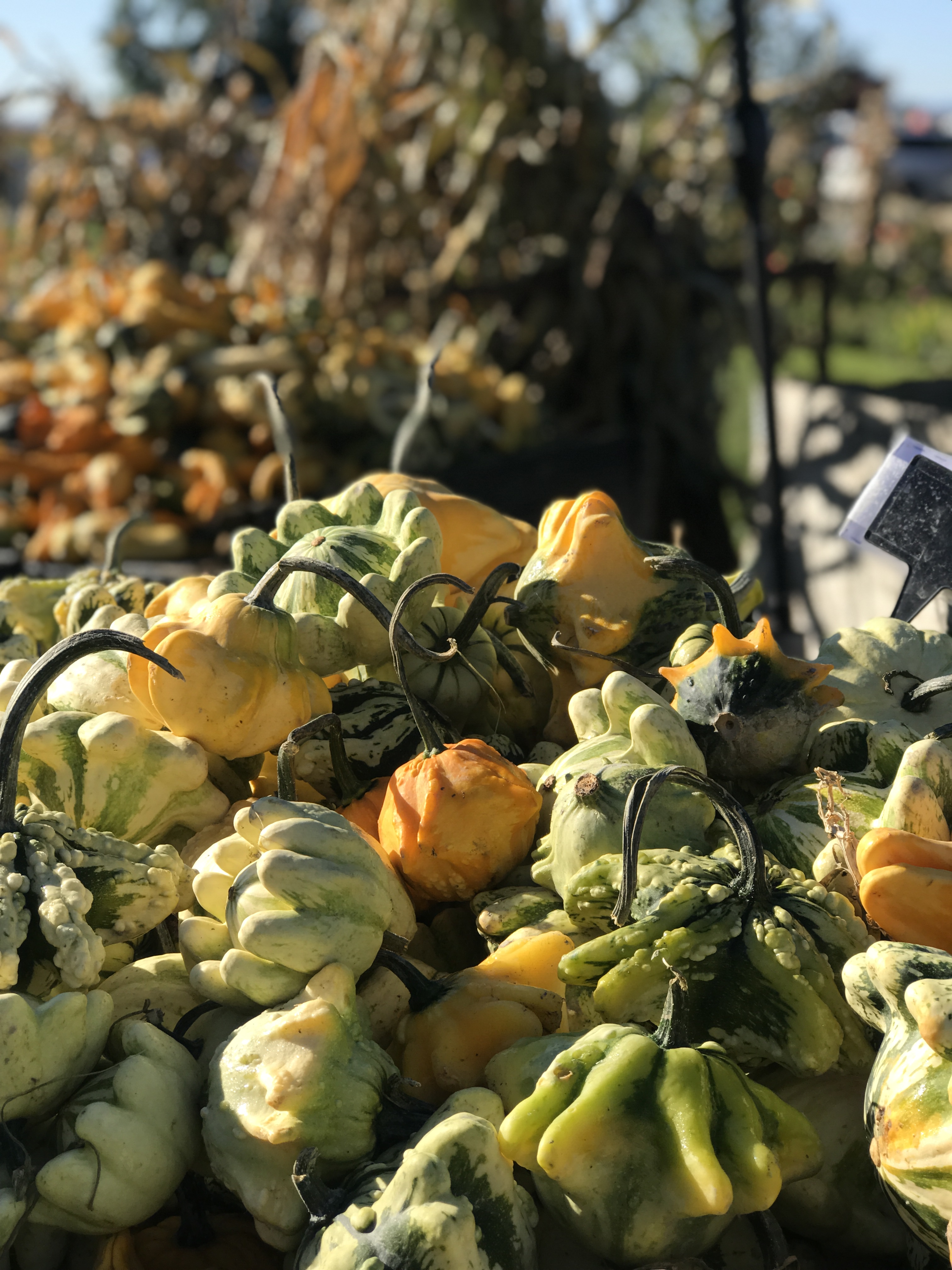 FUN FOR THE ENTIRE FAMILY:

With one of the best corn mazes west of the mountains, Remlinger Farms has enough to entertain the entire family including hay rides, roller coaster, pony rides, pedal go-carts, animals, climbing wall and canoes.  And, of course loads of pumpkins!

32610 N.E. 32nd Street

Carnation, WA 98014

Hours: Weekends only through 10/27, 10:00 AM – 6:00 PM

Admission: $22.75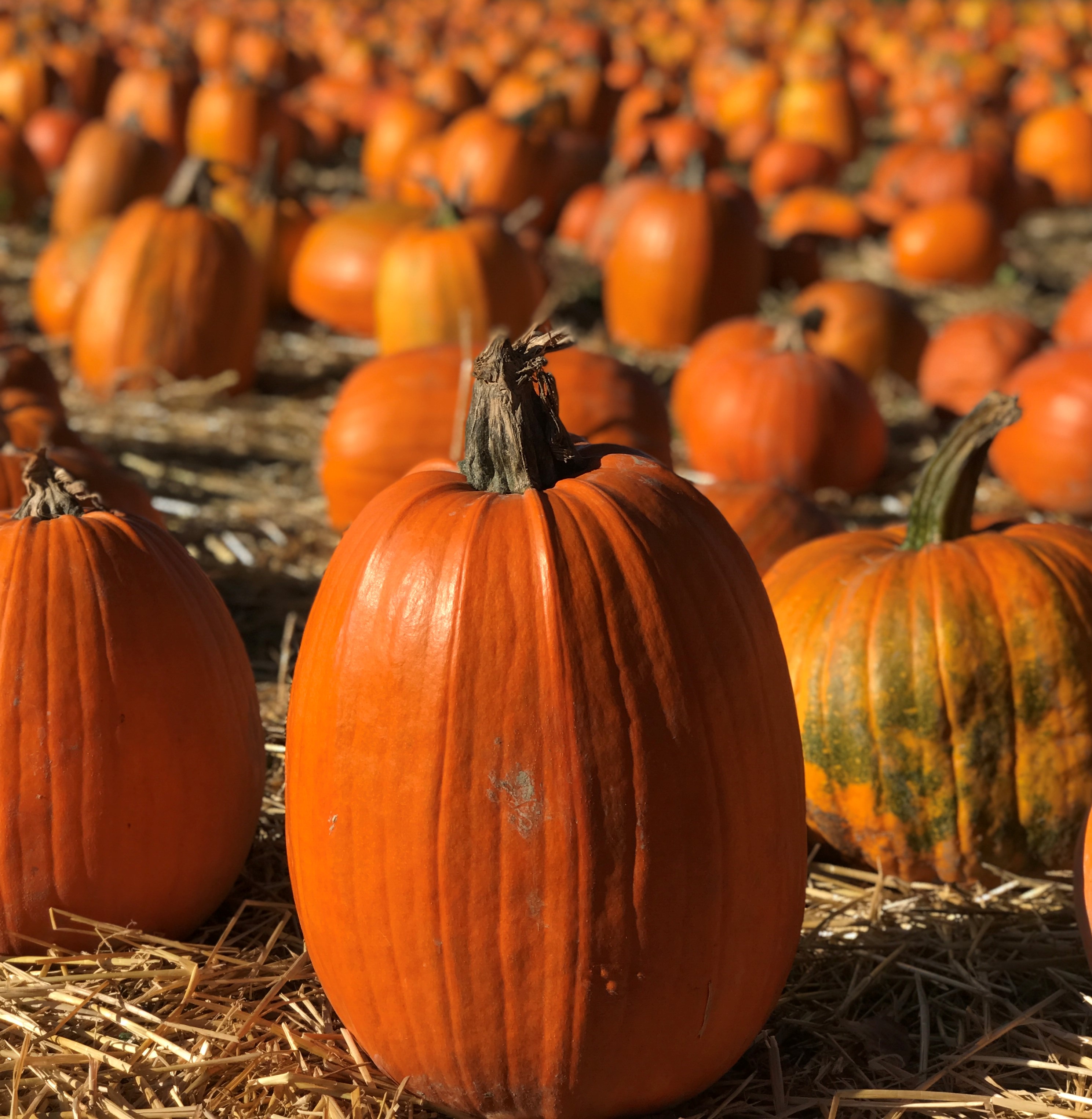 ORGANIC LOVERS:

Oxbow Farms offers all shapes and sizes of certified organic pumpkins.  Fall festival activities include hay rides, farm tours, arts and crafts, scavenger hunt and the house of hay.  While you're there, stock up on their seasonal vegetables grown right there on the farm.

Oxbow Farm & Conservation Center

10819 Carnation-Duvall Rd NE

Carnation, WA 98014

Hours: Weekends only through 10/27, 10:00 AM – 5:00 PM

Admission: Free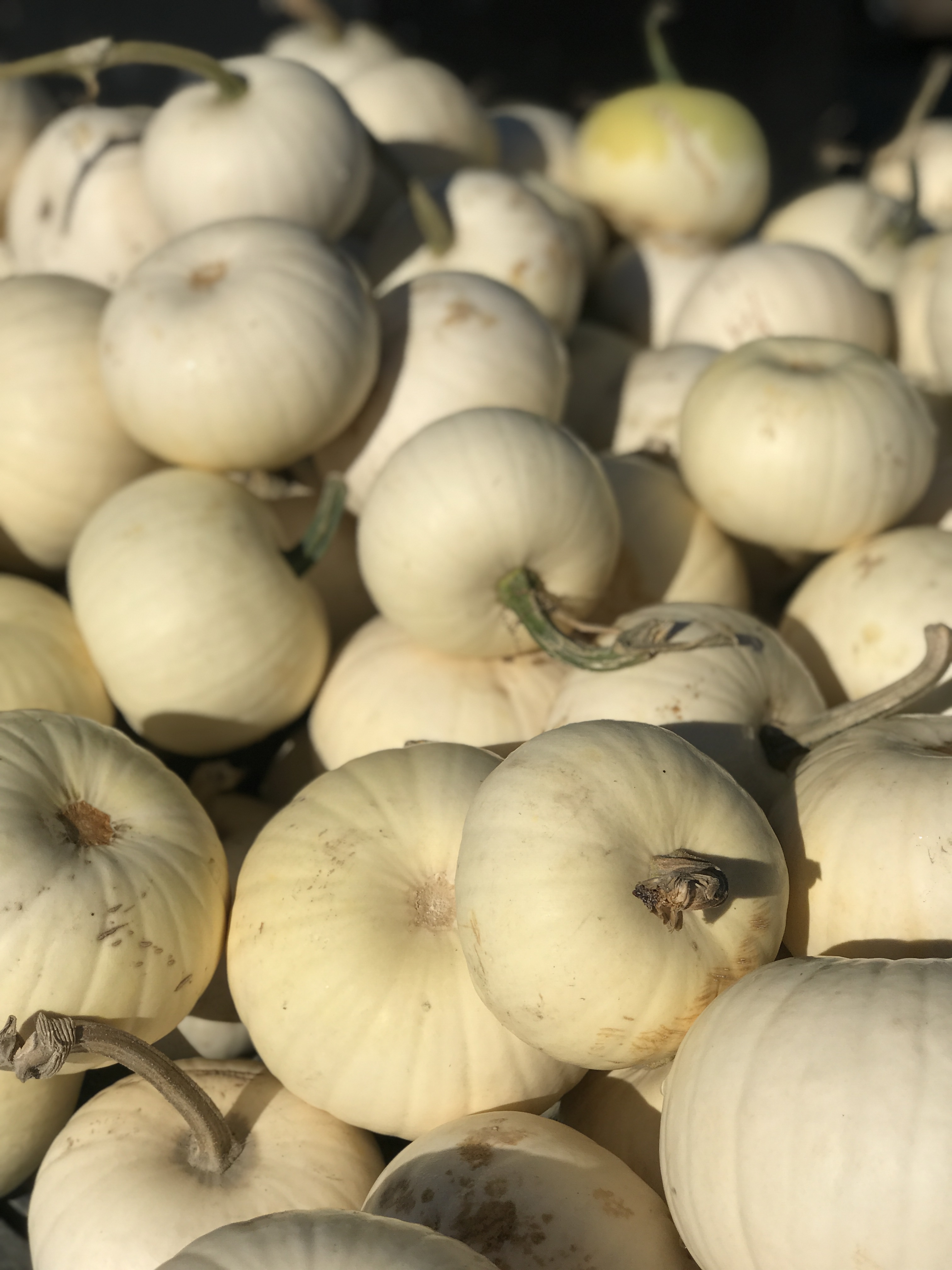 PS: Don't forget to check out our pumpkin carving Pinterest board for some great Pinspiration!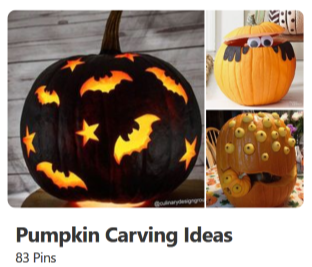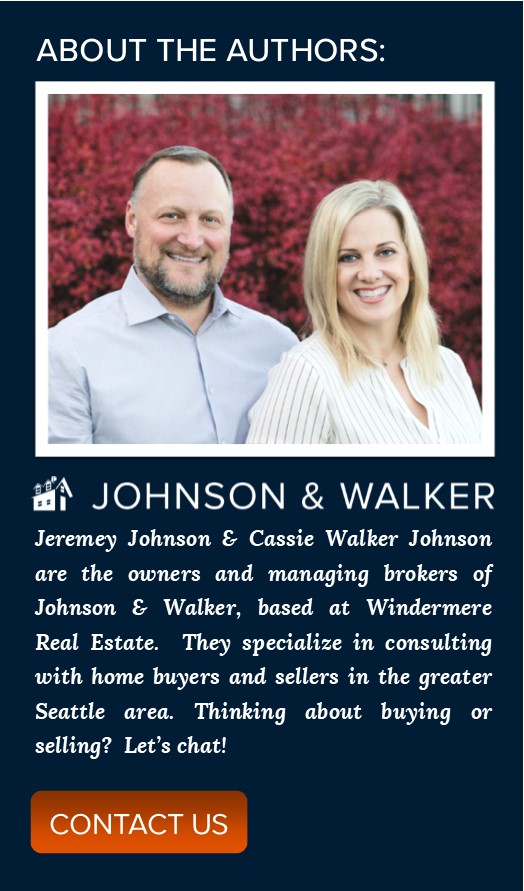 Posted on October 11, 2019 at 09:54
Jeremey Johnson
Category:
DISCOVER
Tagged

animal sanctuary, canoe ride, Carnation, climbing wall, Corn Bin, corn maze, Duvall, fall y'all, Fox Hollow Farm, Grocery Outlet, halloween, hay ride, Hay rides, Hunter Farms, Hunter Tree Farm Pumpkin Patch, Issaquah, Organic, Organic Pumpkins, Organic vegetables, Oxbow Farms, Petting Zoo, pinterest, pony rides, pumpkin carving ideas, pumpkin patch, pumpkin spice latte, Remlinger Farms, Roller coaster, Ryther Center, Safeway, Scavenger hunt, Seasonal Organic Vegetables, Seattle, starbucks, Tractor races, Trader Joe's, Walmart, Wedgwood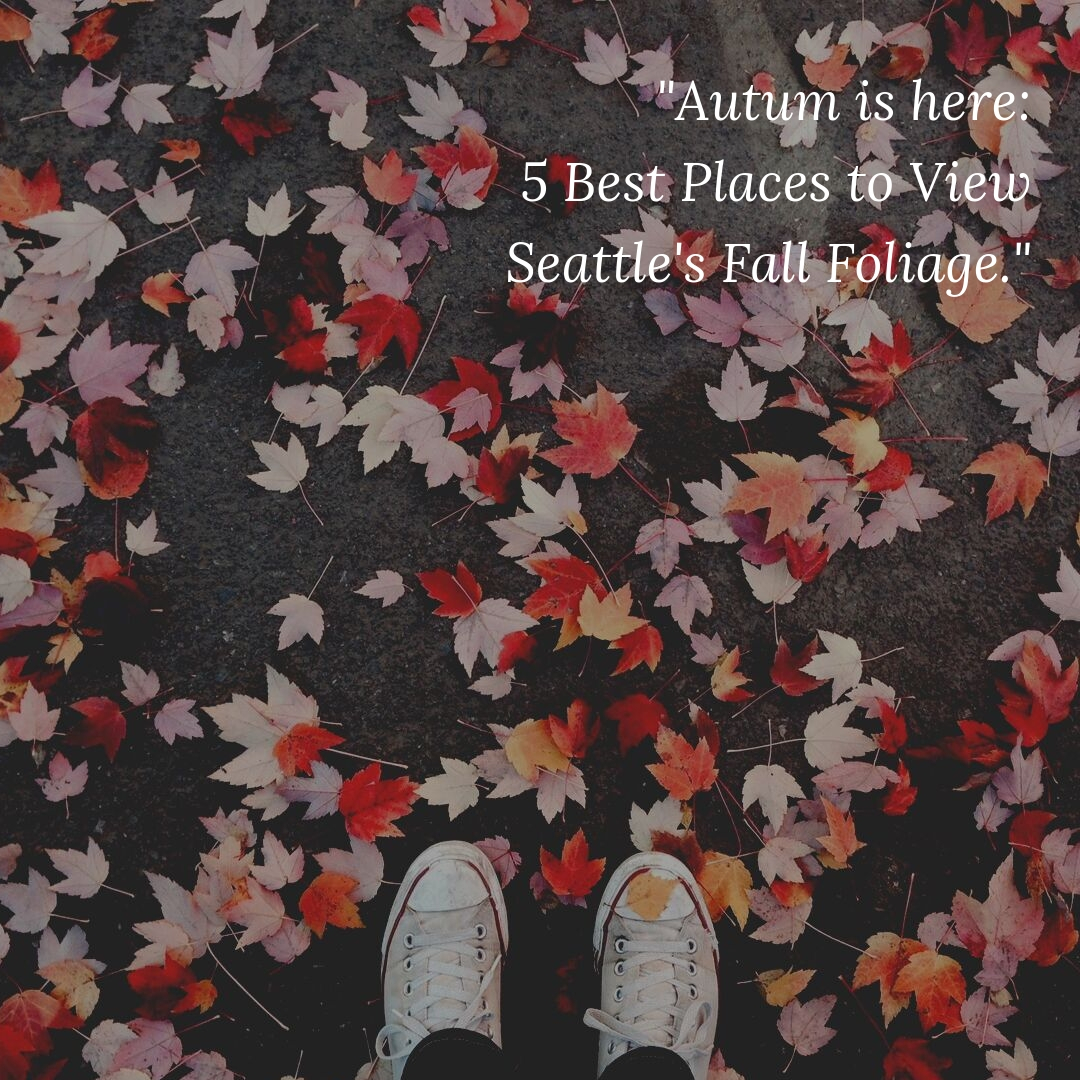 Today is officially the first day of Fall.  While letting go of summer in Seattle is indeed challenging, any true Seattleite will be hard pressed to deny how they feel "at home" in Autumn.  Curling up on the couch, watching their favorite sitcom, fire set and the rain pouring down outside – all of the elements that concoct the perfect Fall evening.
This year's Fall season will officially end on Sunday, December 22nd, therefore the prime time to take advantage of all that Autumn has to offer (and get your family portraits scheduled) is October.  As the leaves turn, so do the days of our lives, and school, and work . . .  and as a result: life gets busy.  For that reason, visit a local jaunt to stop and enjoy the leaves, or consider taking a quick day trip.  Whether you have 60 minutes or 6 hours, October is the time to stop and enjoy our beautiful and lush city.
Here are our favorite Top 5 Places to See Fall Leaves in Seattle: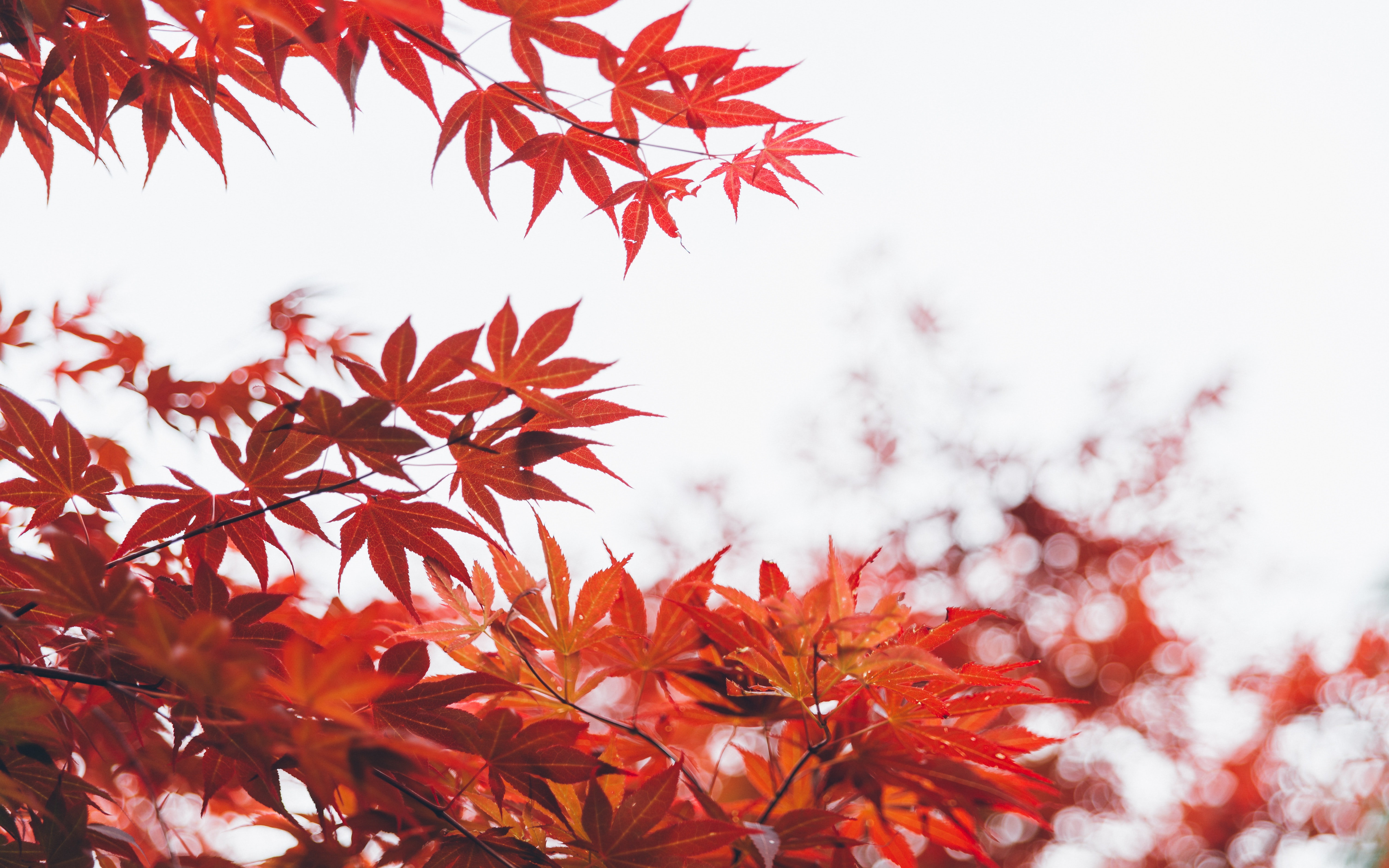 1) BEST LOCAL SPOT:
Japanese Gardens at the Arboretum

1075 Lake Washington Blvd E, Seattle

With plentiful Japanese maples igniting a red, orange and purple pallet, this is a beautiful and easily accessible spot to roam. 

ADMISSION: $8 for adults, $6 for Seattle residents and $4 for youth.  Kids under 5 are free.

PRO TIP: If you are exploring with children, make sure to purchase the food at the ticket booth to feed the Koi.  It is great entertainment for the entire family!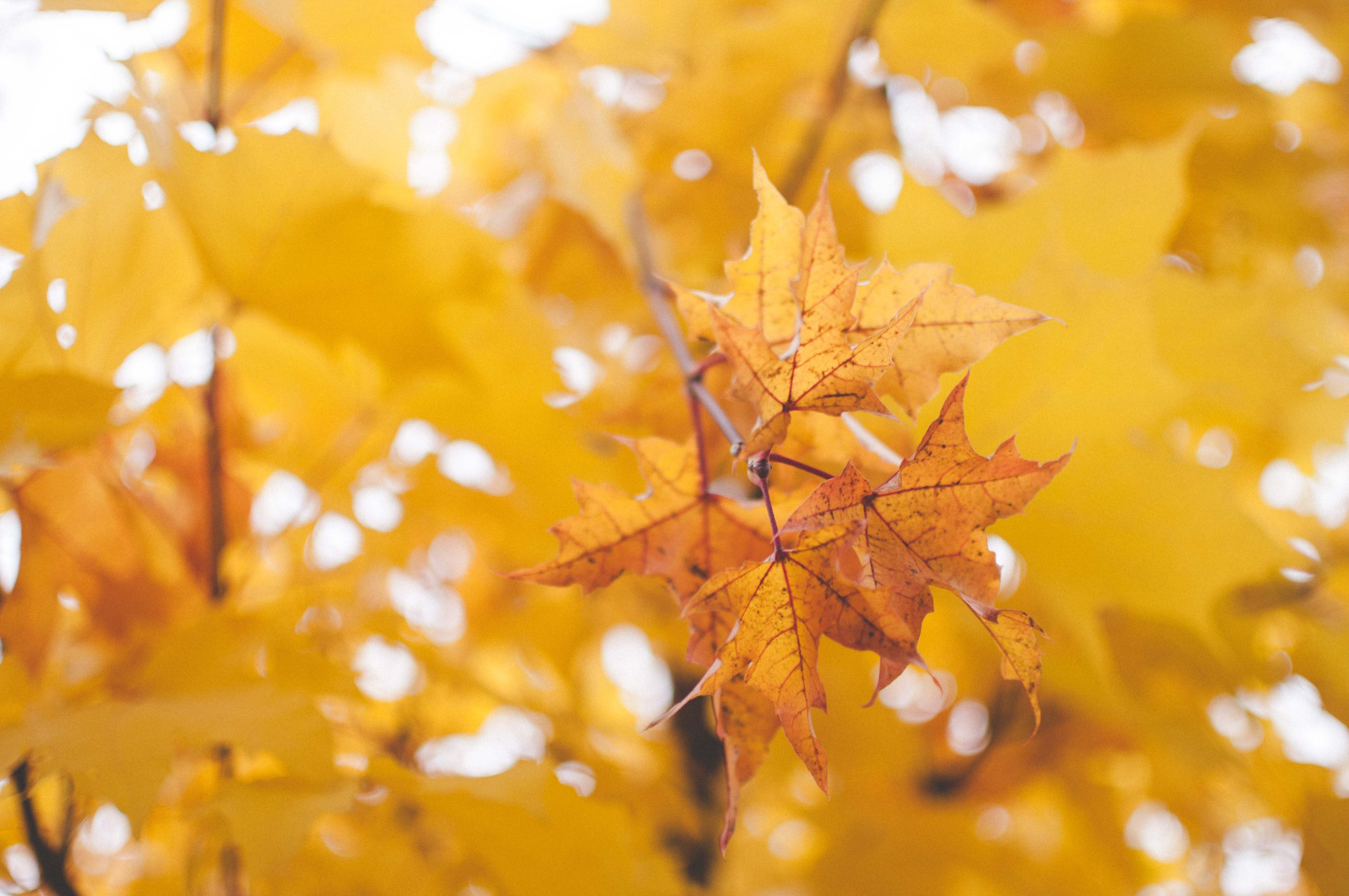 2) BEST LOCAL ADVENTURE:
With over 20 acres of foliage, this Japanese/Northwest garden located in the Rainier Beach neighborhood is worth the trek. 

ADMISSION: Free.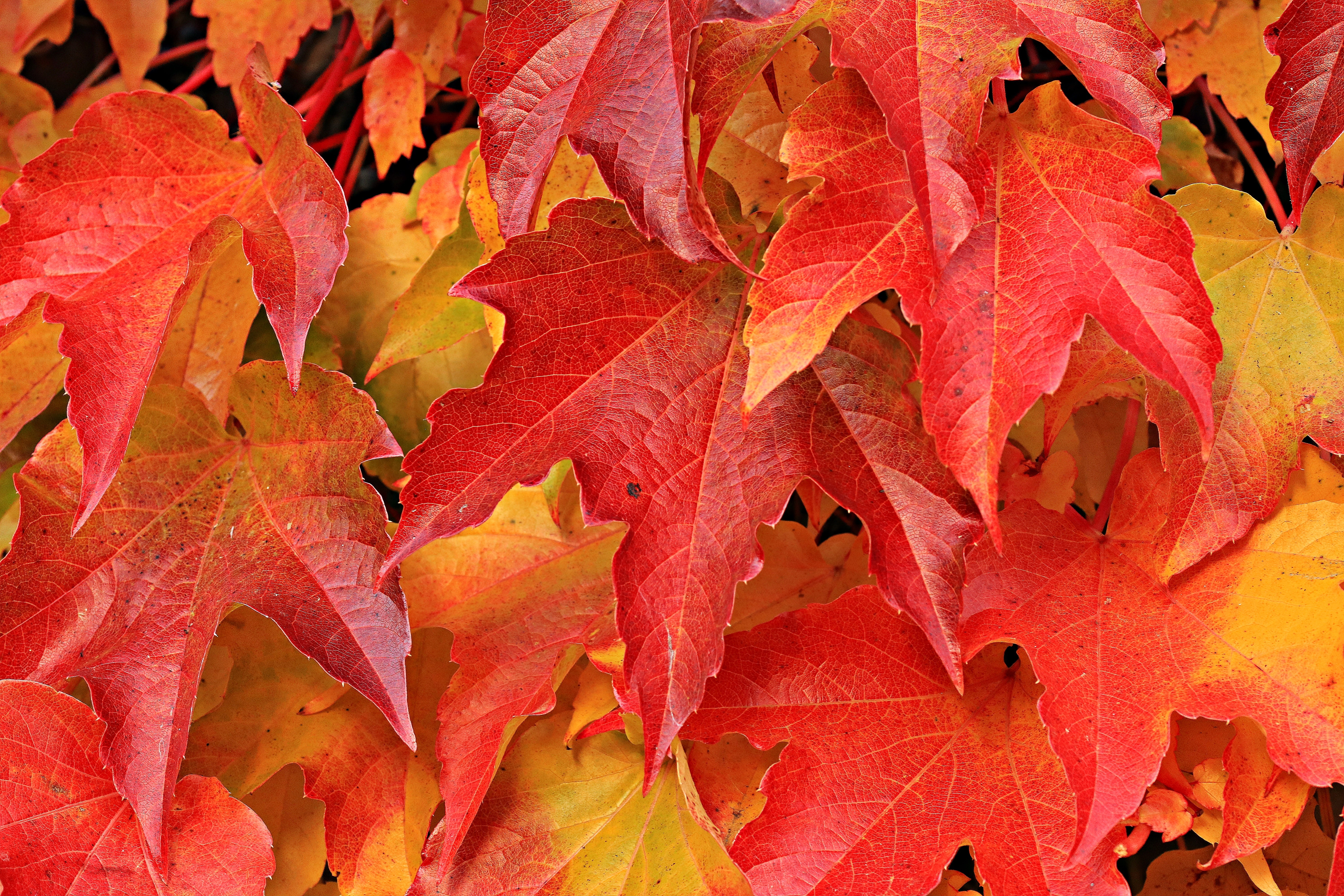 3) BEST EASTSIDE SPOT:
While most visit during the holidays with their Garden d'Lights show, consider touring during the day time to see over seven acres of foliage separated into more than 10 different style gardens. 

ADMISSION: Free.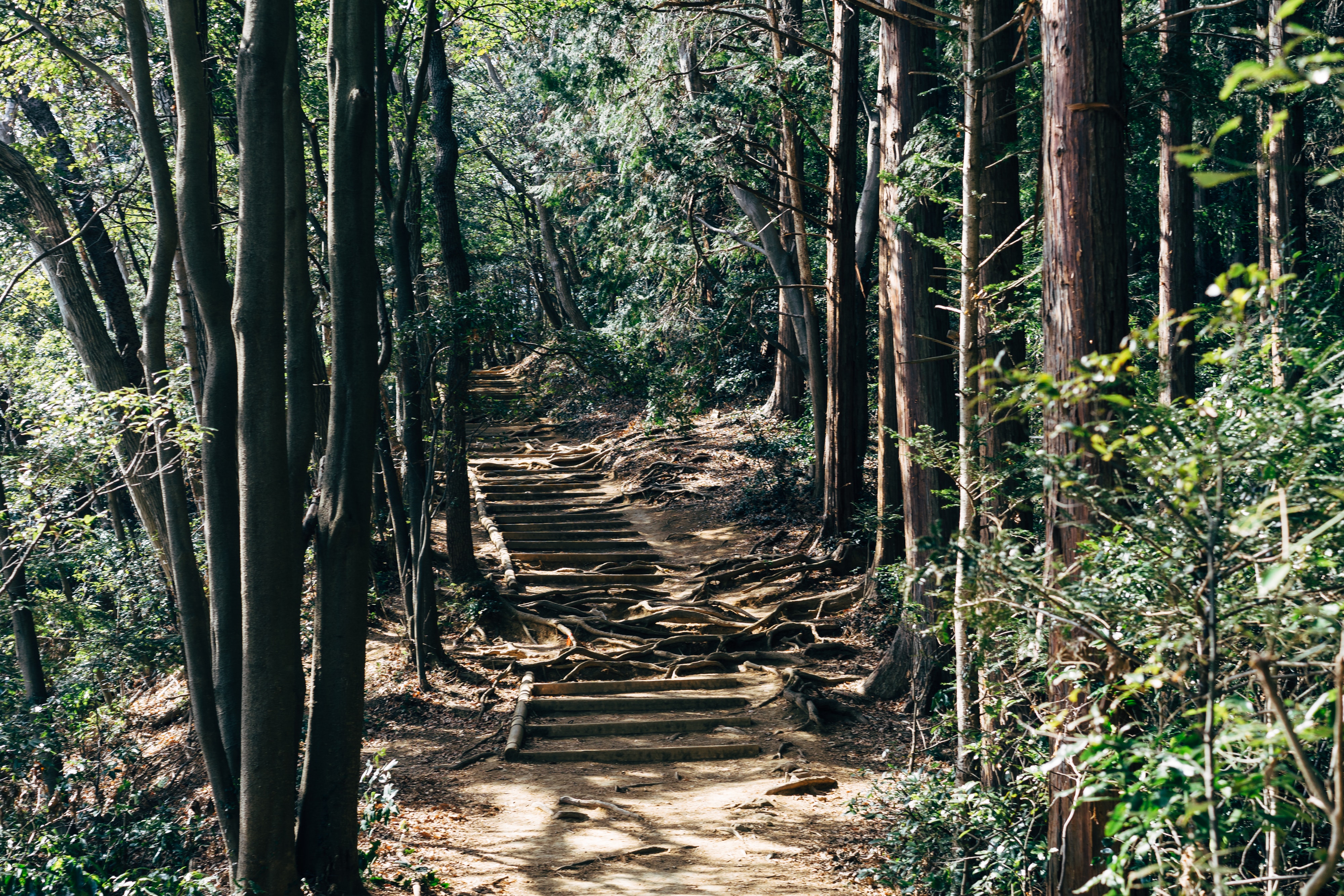 4) BEST DAY TRIP:
Fall is a stunning time to visit Mount Rainier. While a scenic drive is worth the trek, consider packing a picnic and hiking through all that this active volcano has to offer. For an easy stroll with little ones try the Trail of the Shadows at Longmire.  For more adventure, consider hiking to Bench & Snow lakes, or one of these 10 Fall Hikes. 

ADMISSION: $30 per vehicle, $55 for an annual pass. 

PRO TIP: Have a 4th grader?  Get a national park pass for free.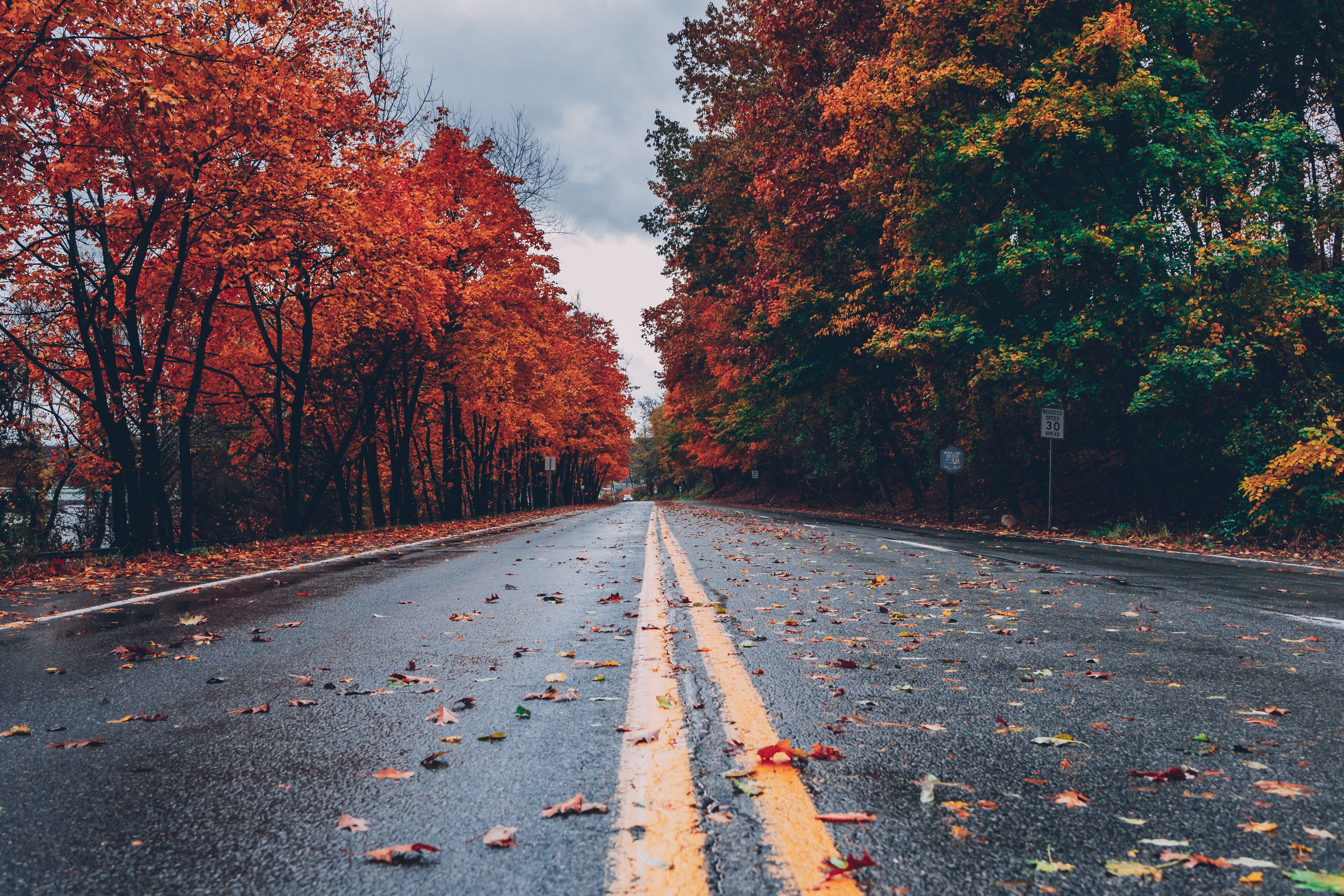 5) BEST VIEW FROM THE CAR:
Not in the mood to weather the reain?  The Stevens Pass Scenic Byway is a great way to see the leaves from the comfort of your car.  Start in Monroe heading east on Highway 2.  While there are several roadside burger joints along the way including Vick's Burger Shack in Sultan, we recommend holding out for lunch in Leavenworth. 

PRO TIP: Great news for Leaf, Tesla and other EV Car owners like us, there are charging stations all along the way.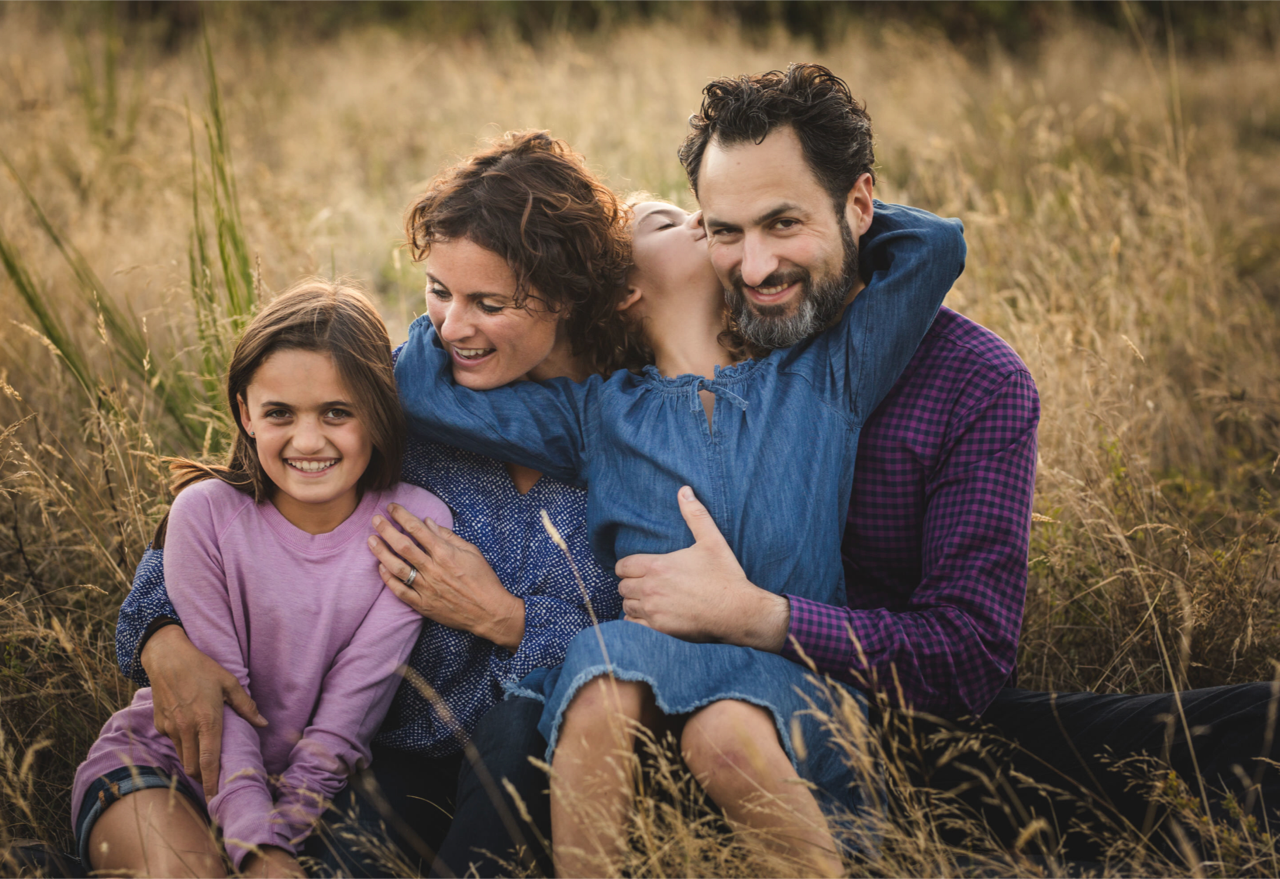 PS: Forgot to schedule your fall family portrait session?  No worries, we've got you covered.  Head over to Shannon Garbaccio photography and book your session now!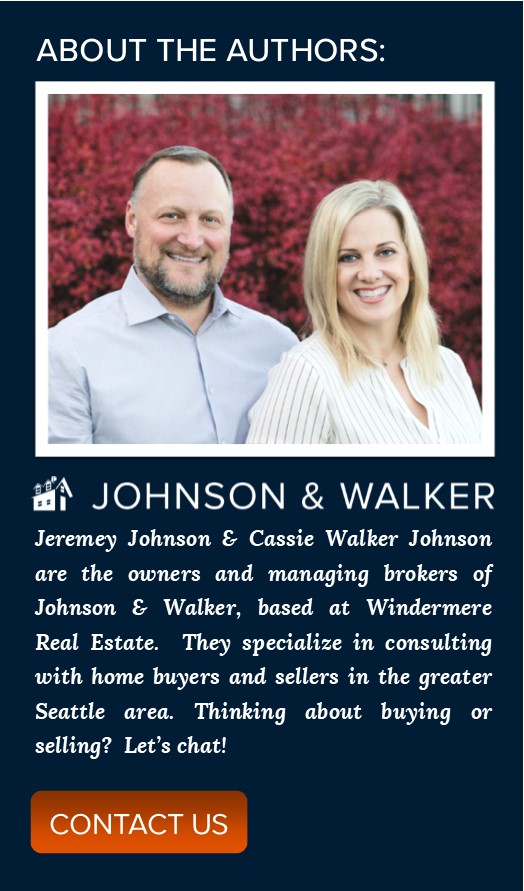 Posted on September 23, 2019 at 13:23
Jeremey Johnson
Category:
DISCOVER
Tagged

Arboretum, autumn, Bellevue, Bellevue Botanical Gardens, Bench Lake, day trip, EV Cars, EV Charging STation, Fall, fall foliage, Fall Hiking, Fall pallet, fall photoshoot, Falling leaves, family photoshoot, Garden d'Lights, Highway 2, Hiking, Japanese Garden, Japanese maple, Kubota Gardens, Leaf, Leavenworth, Longmire, Longmire Lodge, Monroe, Mt. Rainier, Nisqually river, Nissan Leaf, Seattle, Seattle day trips, Seattle Hikes, Seattleite, Shannon Garbaccio, Snow Lake, Stevens Pass Scenic Byway, Sultan, Tesla, Trail of Shadwos, Vick's Burger Shack