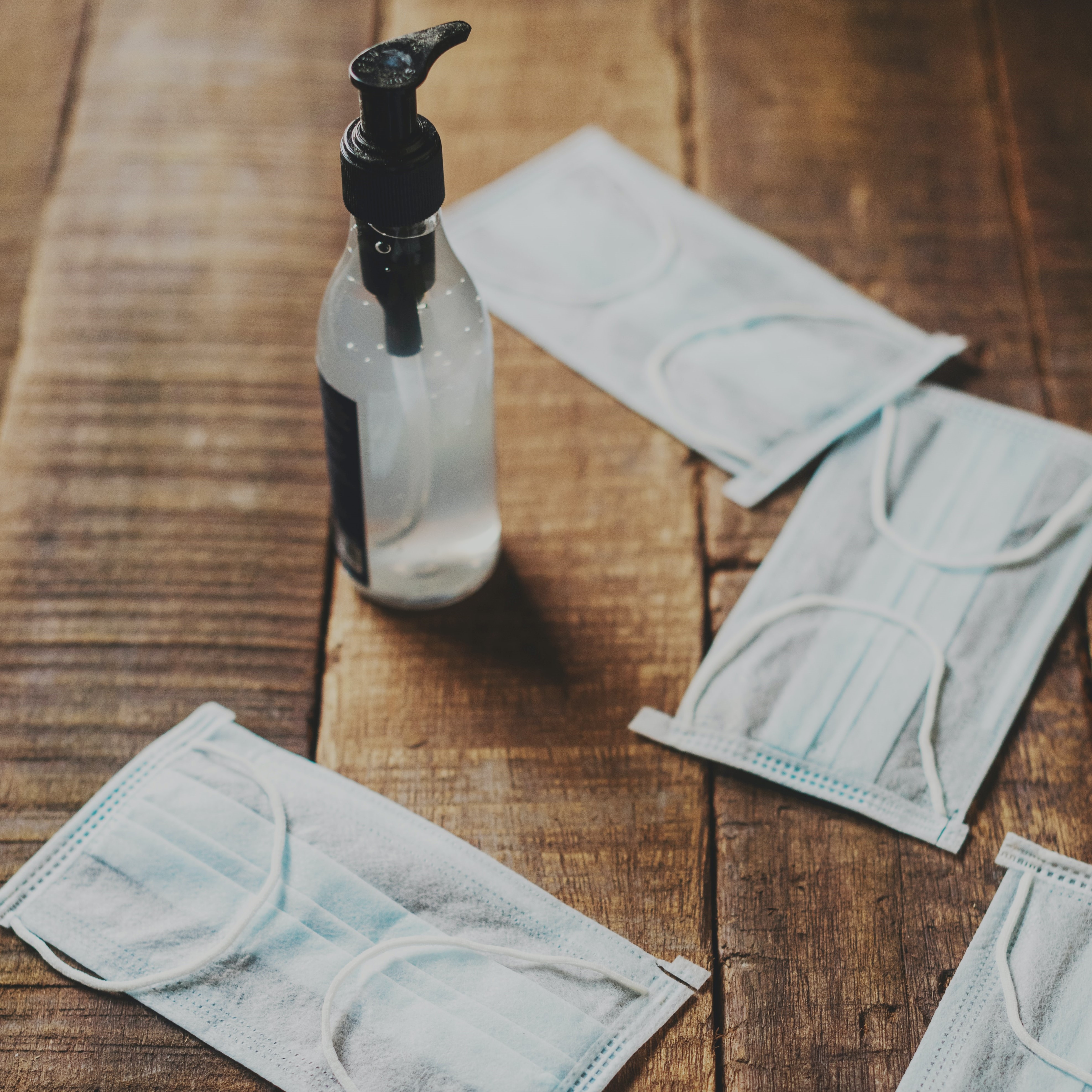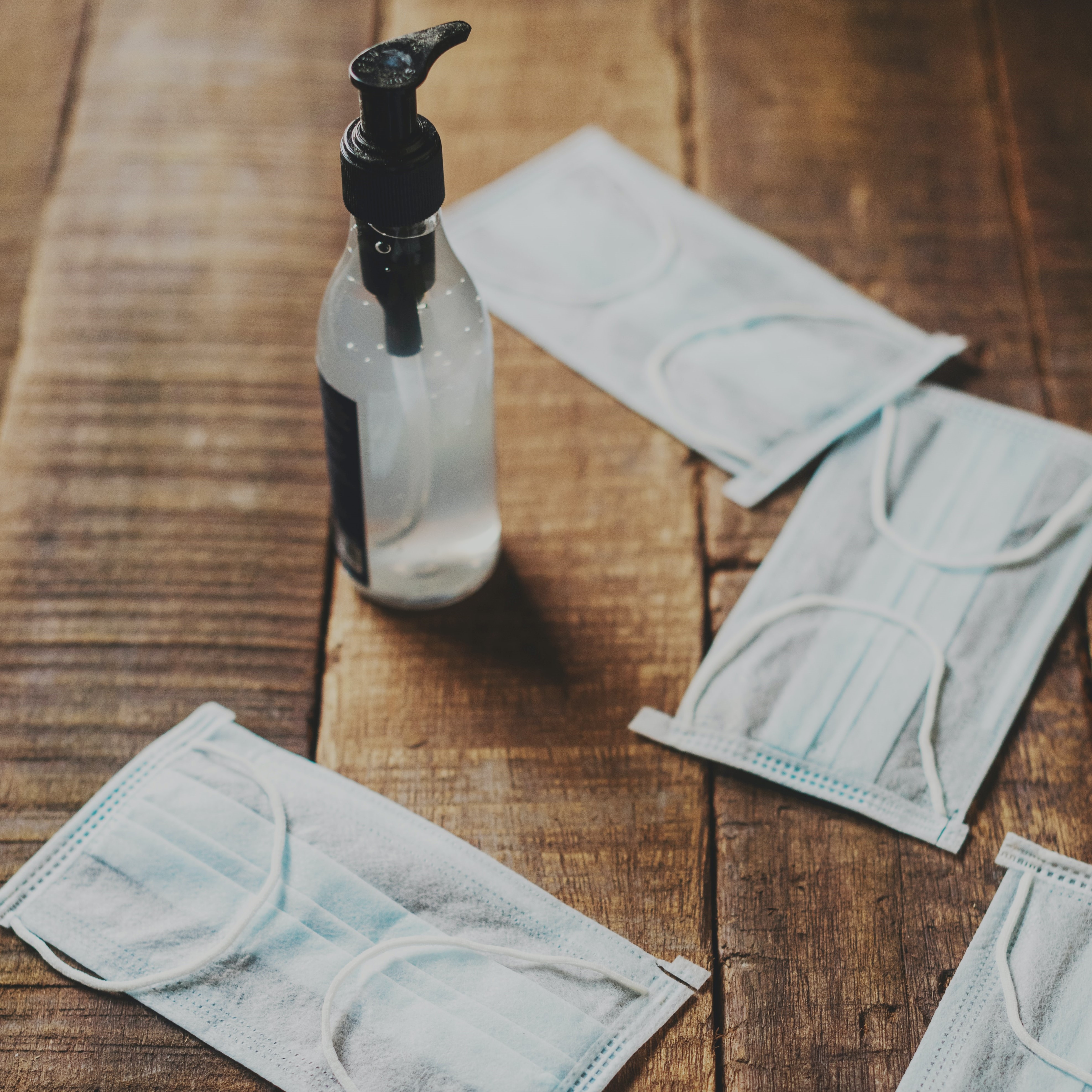 Even with COVID restrictions, the Seattle real estate market continues to be very strong.  We find that our sellers who follow these 5 steps are more successful in this market, often selling over list price with multiple offers.  While your market may be faster, or slower, than Seattle, in the time of COVID, it is best to be prepared. 
VACATE YOUR HOME:
Selling a home that is occupied is challenging enough, let alone in a global pandemic. For the safety of you and your family, it's best to not reside in the home while it is on the market. If you are in a faster market such as Seattle, you should be able to sell your home within a week which means it's the perfect time to book an AirBnb vacation.  Or consider purchasing/renting your next home first, move in, and then list your property for sale.
PRE-MARKET PREP:
An experienced broker will walk through your home and provide you with a list of updates and repairs that should be done before you go to market.  In our COVID market, buyers are looking for a home to move in to right away.  They are not excited about projects, and will often skip over the home that needs repairs to pay more for the home that is move-in ready. The difference between selling quick with a multiple offer situation starts with first impressions.  Make sure yours is the best possible first impression you can make.

PPE:
If you are going to be living in the home while it is on the market, make sure that you or your broker are supplying PPE supplies for buyers when touring. This includes face masks and hand sanitizer.  Be prepared to sanitize bathrooms, door handles and any other surfaces that may be touched after you return home each day.
VIRTUAL TOURS:
Make sure to ask your broker about their marketing plans to feature your home to the most buyers.  In addition to professional photos, find out if they offer measured floor plans and 3D virtual tours.  Most importantly, since open houses are still not allowed in most cities including Seattle, ask if your broker will conduct a live-feed open house to prospective buyers.  We recently invested in a Insta 360 Nano S camera and love how it can feature the home while we tour (see an example of our most recent tour here).
HIRE A FULL-SERVICE EXPERIENCED BROKER:
Having to work with new COVID restrictions and a finicky market, now is not the time to hire your dog walker's cousin who just got their license, or a discount broker.  Now, more than ever, you need the assurance that your property is represented in its best light with maximum exposure.  When interviewing a potential broker, you may want to ask them:
How many homes have you sold in COVID?

Have you successfully listed AND sold houses in COVID? How many had multiple offers?

What are buyers looking for right now?

How do you market and promote your listings given open houses are not permitted?

Do you provide 3D tours?

Do you require a seller provided pre-inspection of the home and sewer line?

What is your plan for offer reviews?
Taking these tips into consideration will help support a successful sale. Thinking of selling? Let's connect and help you get started.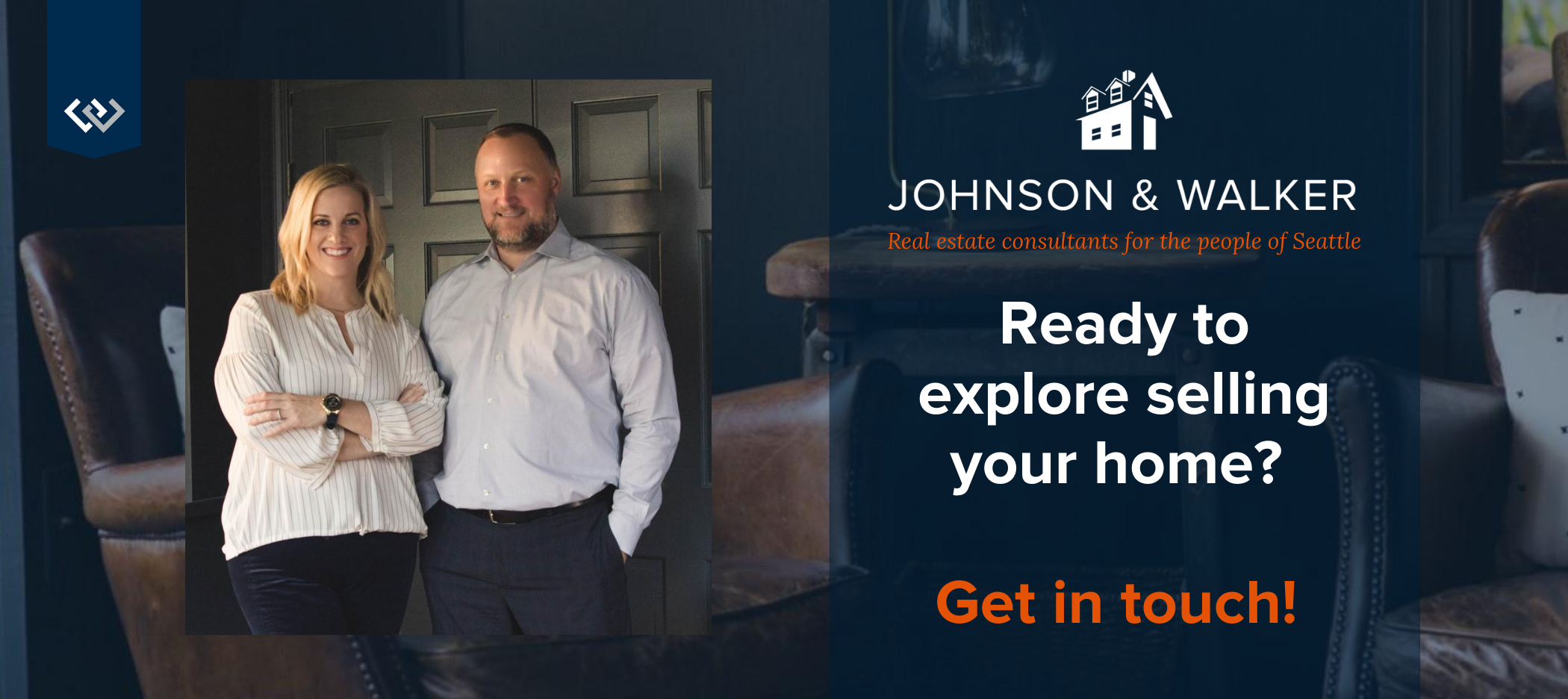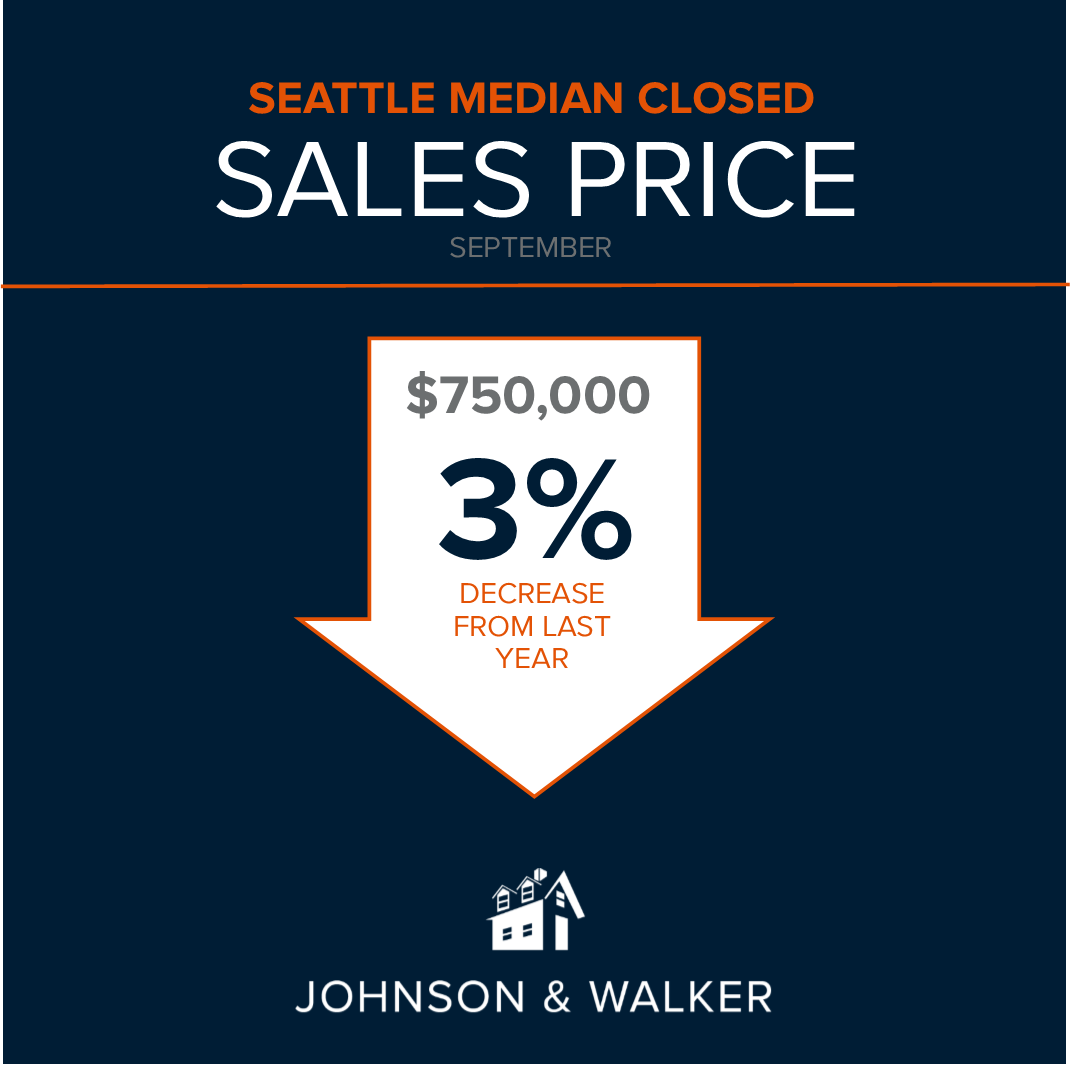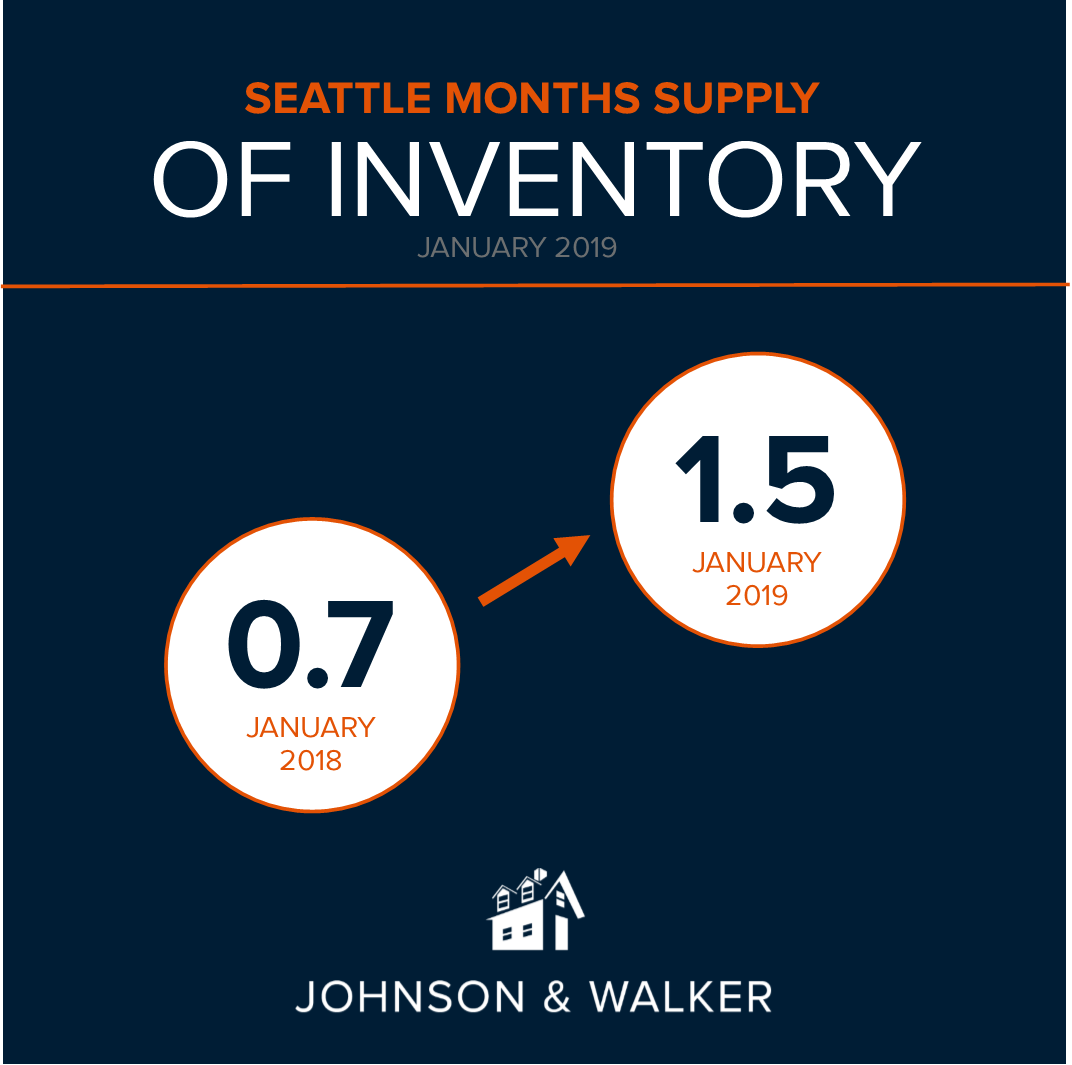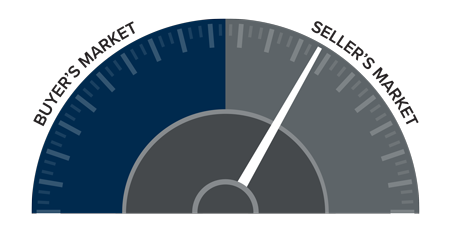 By: Mathew Gardner, Windermere Economist
The following analysis of the Western Washington real estate market is provided by Windermere Real Estate Chief Economist Matthew Gardner. We hope that this information may assist you with making better-informed real estate decisions. For further information about the housing market in your area, please don't hesitate to contact us. 
ECONOMIC OVERVIEW
The Washington State economy continues to add jobs at an above-average rate, though the pace of growth is starting to slow as the business cycle matures. Over the past 12 months, the state added 96,600 new jobs, representing an annual growth rate of 2.9% — well above the national rate of 1.7%. Private sector employment gains continue to be quite strong, increasing at an annual rate of 3.6%. Public sector employment was down 0.3%. The strongest growth sectors were Real Estate Brokerage and Leasing (+11.4%), Employment Services (+10.3%), and Residential Construction (+10.2%). During fourth quarter, the state's unemployment rate was 4.3%, down from 4.7% a year ago.
My latest economic forecast suggests that statewide job growth in 2019 will still be positive but is expected to slow. We should see an additional 83,480 new jobs, which would be a year-over-year increase of 2.4%.
HOME SALES ACTIVITY
There were 17,353 home sales during the fourth quarter of 2018. Year-over-year sales growth started to slow in the third quarter and this trend continued through the end of the year. Sales were down 16% compared to the fourth quarter of 2017.​

The slowdown in home sales was mainly a function of increasing listing activity, which was up 38.8% compared to the fourth quarter of 2017 (continuing a trend that started earlier in the year). Almost all of the increases in listings were in King and Snohomish Counties. There were more modest increases in Pierce, Thurston, Kitsap, Skagit, and Island Counties. Listing activity was down across the balance of the region.

Only two counties—Mason and Lewis—saw sales rise compared to the fourth quarter of 2017, with the balance of the region seeing lower levels of sales activity.​

We saw the traditional drop in listings in the fourth quarter compared to the third quarter, but I fully anticipate that we will see another jump in listings when the spring market hits. The big question will be to what degree listings will rise.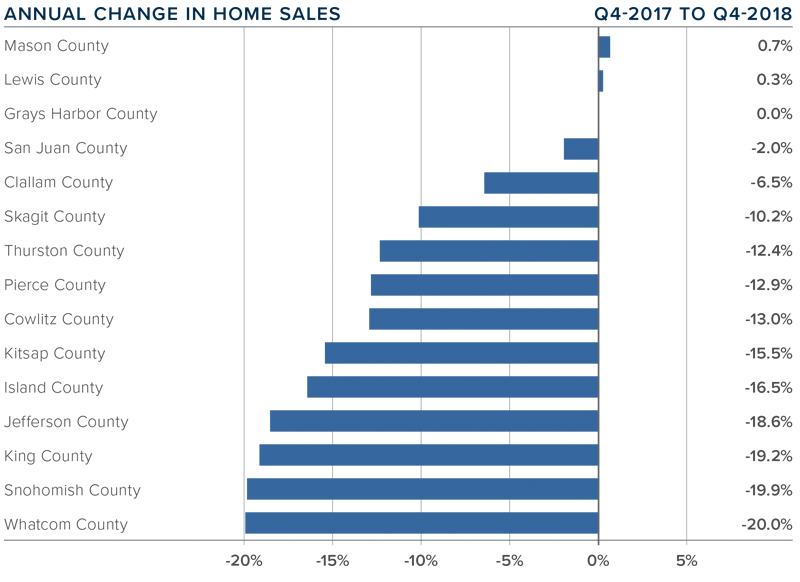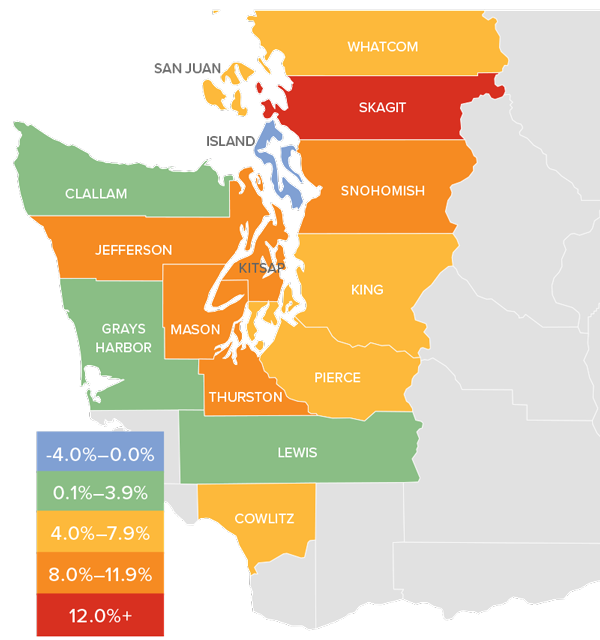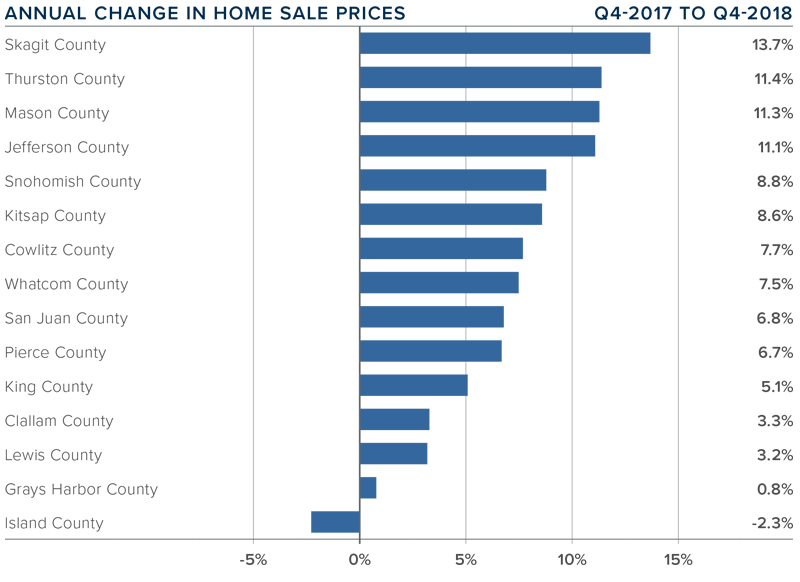 DAYS ON MARKET
The average number of days it took to sell a home dropped three days compared to the same quarter of 2017.

Thurston County joined King County as the tightest markets in Western Washington, with homes taking an average of 35 days to sell. There were eight counties that saw the length of time it took to sell a home drop compared to the same period a year ago. Market time rose in five counties and was unchanged in two.

Across the entire region, it took an average of 51 days to sell a home in the fourth quarter of 2018. This is down from 54 days in the fourth quarter of 2017 but up by 12 days when compared to the third quarter of 2018.

I suggested in the third quarter Gardner Report that we should be prepared for days on market to increase, and that has proven to be accurate. I expect this trend will continue, but this is typical of a regional market that is moving back to becoming balanced.​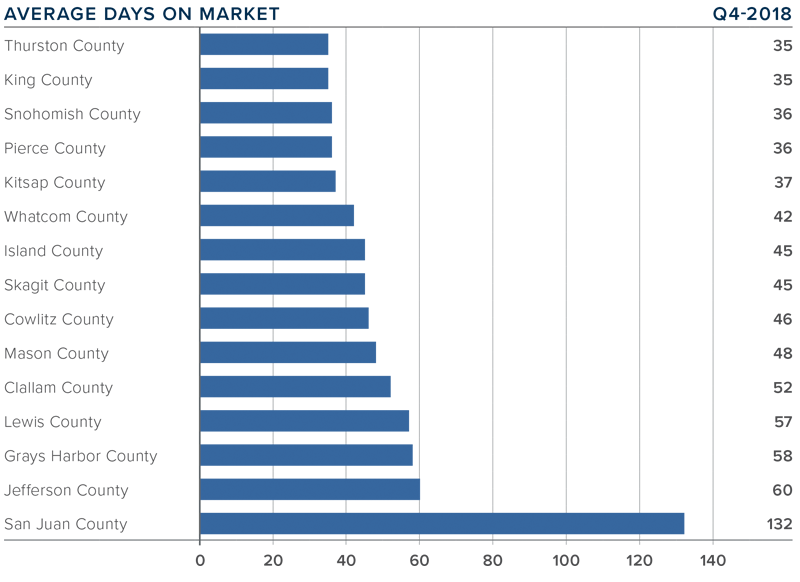 CONCLUSIONS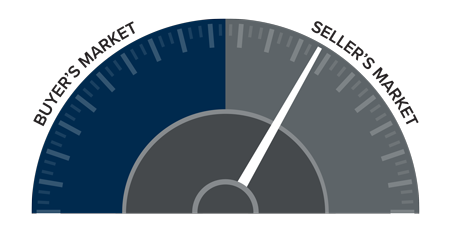 This speedometer reflects the state of the region's real estate market using housing inventory, price gains, home sales, interest rates, and larger economic factors. I am continuing to move the needle toward buyers as price growth moderates and listing inventory continues to rise.
2019 will be the year that we get closer to having a more balanced housing market. Buyer and seller psychology will continue to be significant factors as home sellers remain optimistic about the value of their home, while buyers feel significantly less pressure to buy. Look for the first half of 2019 to be fairly slow as buyers sit on the sidelines waiting for price stability, but then I do expect to see a more buoyant second half of the year.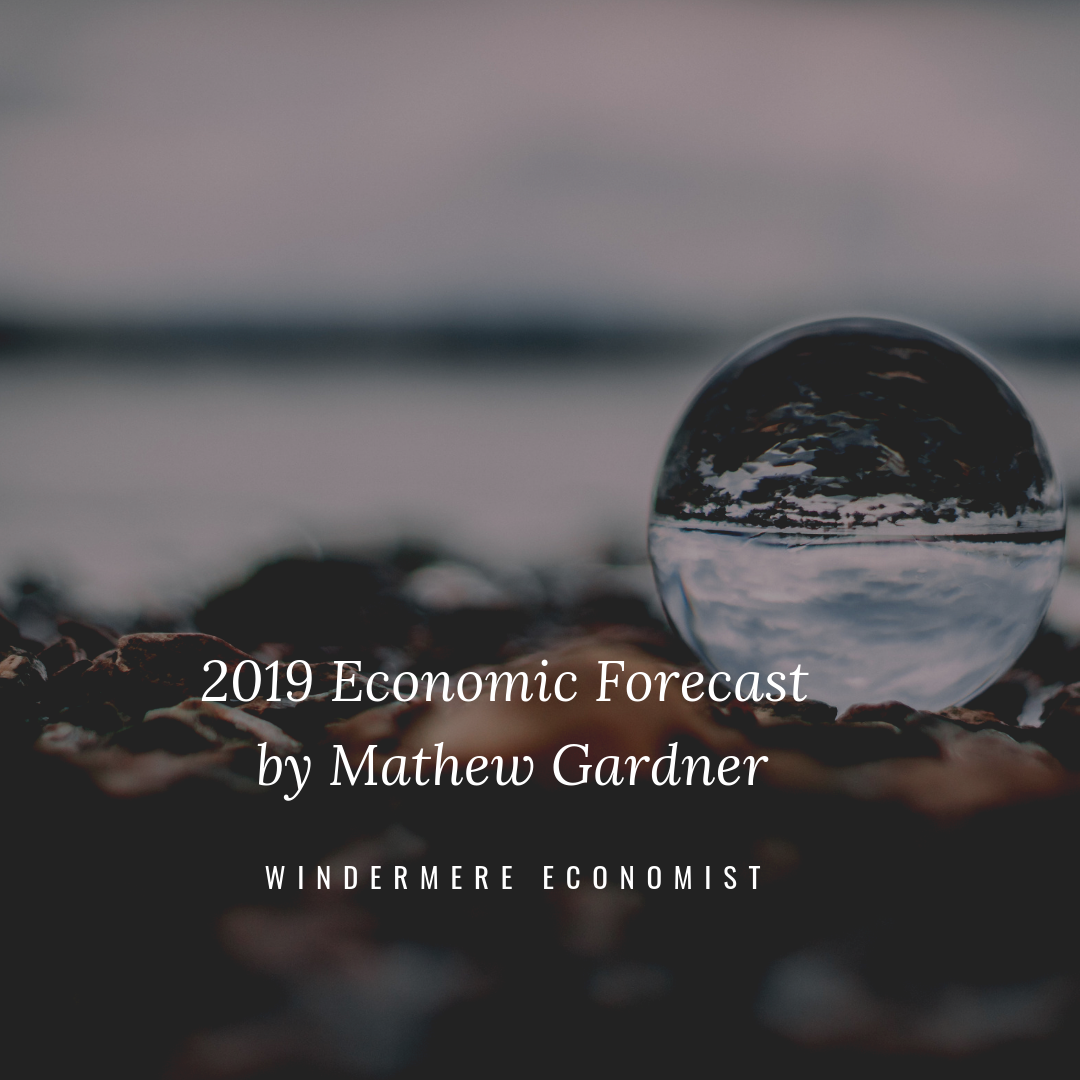 Author: Mathew Gardner, Windermere Economist

What a year it has been for both the U.S. economy and the national housing market. After several years of above-average economic and home price growth, 2018 marked the start of a slowdown in the residential real estate market. As the year comes to a close, it's time for me to dust off my crystal ball to see what we can expect in 2019.
The U.S. Economy
Despite the turbulence that the ongoing trade wars with China are causing, I still expect the U.S. economy to have one more year of relatively solid growth before we likely enter a recession in 2020. Yes, it's the dreaded "R" word, but before you panic, there are some things to bear in mind.
Firstly, any cyclical downturn will not be driven by housing.  Although it is almost impossible to predict exactly what will be the "straw that breaks the camel's back", I believe it will likely be caused by one of the following three things: an ongoing trade war, the Federal Reserve raising interest rates too quickly, or excessive corporate debt levels. That said, we still have another year of solid growth ahead of us, so I think it's more important to focus on 2019 for now.
The U.S. Housing Market
Existing Home Sales
This paper is being written well before the year-end numbers come out, but I expect 2018 home sales will be about 3.5% lower than the prior year. Sales started to slow last spring as we breached affordability limits and more homes came on the market.  In 2019, I anticipate that home sales will rebound modestly and rise by 1.9% to a little over 5.4 million units.
Existing Home Prices
We will likely end 2018 with a median home price of about $260,000 – up 5.4% from 2017.  In 2019 I expect prices to continue rising, but at a slower rate as we move toward a more balanced housing market. I'm forecasting the median home price to increase by 4.4% as rising mortgage rates continue to act as a headwind to home price growth.
New Home Sales
In a somewhat similar manner to existing home sales, new home sales started to slow in the spring of 2018, but the overall trend has been positive since 2011. I expect that to continue in 2019 with sales increasing by 6.9% to 695,000 units – the highest level seen since 2007.
That being said, the level of new construction remains well below the long-term average. Builders continue to struggle with land, labor, and material costs, and this is an issue that is not likely to be solved in 2019. Furthermore, these constraints are forcing developers to primarily build higher-priced homes, which does little to meet the substantial demand by first-time buyers.
Mortgage Rates
In last year's forecast, I suggested that 5% interest rates would be a 2019 story, not a 2018 story. This prediction has proven accurate with the average 30-year conforming rates measured at 4.87% in November, and highly unlikely to breach the 5% barrier before the end of the year.
In 2019, I expect interest rates to continue trending higher, but we may see periods of modest contraction or levelling.  We will likely end the year with the 30-year fixed rate at around 5.7%, which means that 6% interest rates are more apt to be a 2020 story.
I also believe that non-conforming (or jumbo) rates will remain remarkably competitive. Banks appear to be comfortable with the risk and ultimately, the return, that this product offers, so expect jumbo loan yields to track conforming loans quite closely.
Conclusions
There are still voices out there that seem to suggest the housing market is headed for calamity and that another housing bubble is forming, or in some cases, is already deflating.  In all the data that I review, I just don't see this happening. Credit quality for new mortgage holders remains very high and the median down payment (as a percentage of home price) is at its highest level since 2004.
That is not to say that there aren't several markets around the country that are overpriced, but just because a market is overvalued, does not mean that a bubble is in place. It simply means that forward price growth in these markets will be lower to allow income levels to rise sufficiently.
Finally, if there is a big story for 2019, I believe it will be the ongoing resurgence of first-time buyers. While these buyers face challenges regarding student debt and the ability to save for a down payment, they are definitely on the comeback and likely to purchase more homes next year than any other buyer demographic.