SMART HOME TIPS FROM A POWERHOUSE SEATTLE TECH COUPLE
Matt Thomlinson and Dana Hurley are a powerhouse Seattle couple, and one of our most favorite clients (and friends).  We are frequently in awe of their ability to fine tune house management while conducting a busy work and travel schedule.  As SVP of Security Engineering at Electronic Arts, Matt has always been at the forefront of cyber security both at EA and previously with Microsoft.  Dana, a voice over actor has perfected both a home and portable studio so she can record anywhere in the world.  Together they have mastered technology to its best use in their home and daily lives.  We asked them to share with us a few of their tips for keeping their busy lives so well managed.

Q: First things first, how do you keep track of all of your passwords?
A: Most security experts will tell you – use a password manager! They have several benefits – not only can you start using longer passwords without forgetting them, you'll also stop reusing passwords across different internet sites. We both use the same app, and have individual passwords saved but also some that are shared between us (Seattle City Light, Comcast, etc.) which has been a real help. Reputable password managers include Keepass, Lastpass, or 1Password.

Q: You have a newer construction home, what devices did you implement to help manage the house on a daily basis?
A: We built a number of "smart home" systems into our house to automate lights, shades etc. However, some of the best upgrades we made after the fact:
We added an internet-based doorbell camera, which helps us communicate with workers arriving when we're not at home or monitor Amazon package drop-offs, all while automatically storing security video footage. Common systems include Nest, Simplisafe, and Ring.
To control irrigation, we skipped the bulky, seemingly over-expensive Rain Bird type system and went with a smart irrigation system. It is smaller, touchscreen and phone-app controlled, pulls in and changes your program based on weather forecasts, and provides us with usage stats. Plus, the interface is so much easier to understand than the old systems. Some of the nicer systems are RainMachine, GreenIQ, Blossom.
We installed a whole-house water flow monitor that has a shutoff valve. It has to be plumbed into the main water line, but has the advantage that you don't have to distribute water sensors throughout the house. This is great peace of mind – not only does it give usage stats, but in the case of excessive usage that looks like a pipe break, it automatically shuts off the water main and calls/texts us. Systems like Flo by Moen, Water Hero, and Phyn.

Q: How do you keep track and coordinate both of your busy travel schedules?
A: Probably the biggest thing is our 'joint email account' – we each have personal email accounts but we also share a joint account. That joint account gives us an easy way to communicate externally on house matters, and a single joint calendar we can add appointments to. That part is magical – our phones show us all of the calendars at once so it's an accurate view of what's going on, and it syncs immediately if our plans change. That joint account has removed a ton of sync communication that would otherwise be necessary.
We both travel for work and fun, and so we use TripIt to keep those details straight. It's pretty easy to use – once you buy a plane ticket, hotel booking, or car, you send the email confirmation to TripIt and it automatically builds your trip schedule for you. It's super easy to coordinate all of our travel there, make sure have the bases covered on complex trips, and we use it on the road to look up all of the original confirmation details.

Q: We know you both love to cook, any tips on apps to help manage recipes and shopping lists?
A: We use a great app called PlanToEat – it holds our recipes and easily imports ones we find on the internet. When we want to cook something, a click automatically creates a shopping list for us. It's another shared resource, so when Dana adds something to the list it shows up immediately on my phone. Scaling recipes up and down is simple, and when it's time to cook, the app breaks the recipe into a step-by-step cookbook view that we use in the kitchen.

Q: What new gadget is on your Christmas wish list this year?
A: I work at a video game company, so we've already got more Xbox games than we can play, but Dana is quietly lobbying for an Oculus virtual-reality headset to play with. Virtual Reality (VR) is in its early stages, but some of the games look great and seem more accessible because you've got physical movement involved vs. playing with a controller.
We are so thankful for the opportunity to work with great clients like Matt and Dana.  Their technology skills always keep us on our game!
ABOUT THE AUTHORS: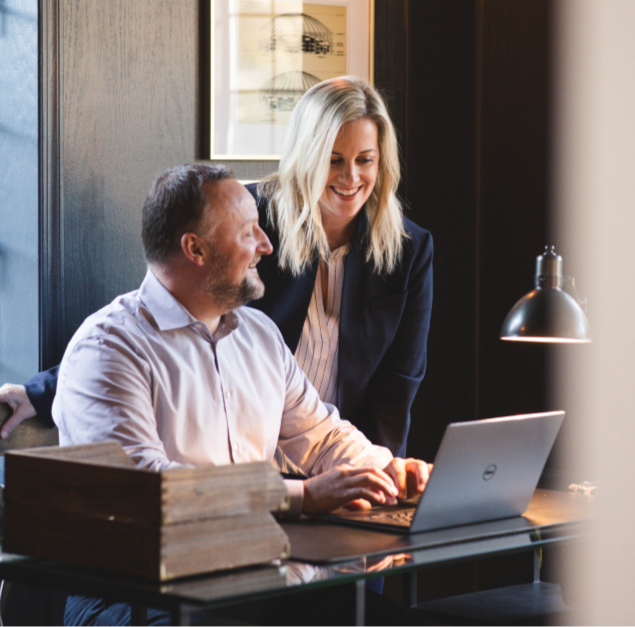 Jeremey Johnson and Cassie Walker Johnson are managing brokers and real estate agents for Johnson & Walker, based at Windermere Real Estate in Seattle, WA.  They specialize in consulting with home  buyers and sellers in the greater Seattle area.  Thinking about buying or selling in Seattle?  Reach out to us and let's begin the conversation.